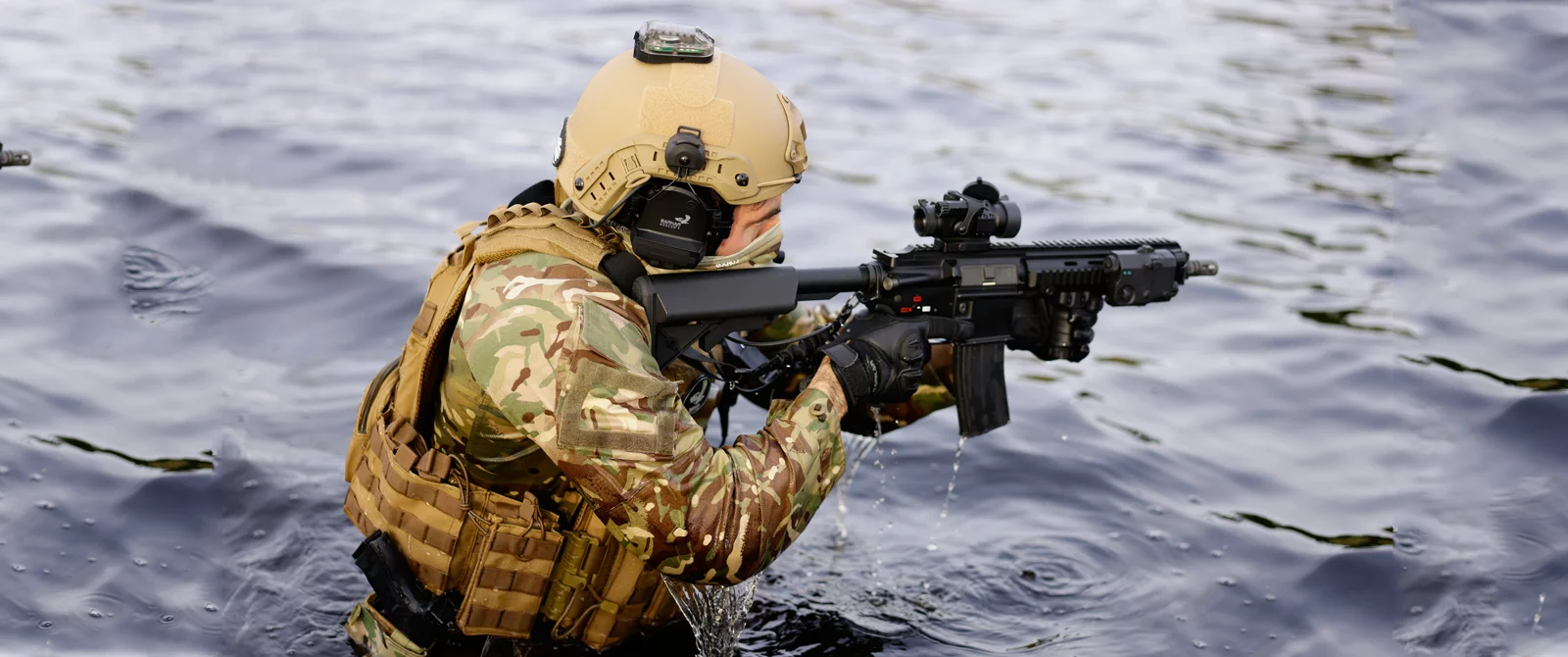 October 11, 2023
What is Tactical Gear?
Tactical gear refers to specialised equipment and clothing designed to enhance performance and increase safety in combat situations.
From bulletproof vests to night vision goggles, tactical gear encompasses an array of tools that enable individuals to navigate challenging environments.
This essential gear plays a critical role in ensuring the success of operations due to its functionality. In this article from Sarkar Tactical, we have a look at the different types of tactical gear, its purpose and the various uses.
Table of Contents
What Does Modern Tactical Gear Look Like?
Modern tactical gear looks vastly different from what it used to be. Today's tactical gear is designed to be protective yet lightweight.
One noticeable change is the emphasis on lightweight materials. Manufacturers have adopted advanced fabrics like ripstop nylon and Cordura, which offer durability and mobility. Additionally, modern tactical gear now includes a multitude of tech-integrated features. From MOLLE webbing systems to accommodate various attachments to built-in hydration packs, every aspect of a modern tactical loadout aims to enhance efficiency on the field.
Moreover, customisation has become a key aspect as users often seek equipment tailored to their specific requirements. This includes modular options that allow easy attachment or detachment of pouches and accessories based on mission requirements.
Typical Tactical Gear Ensemble
While the specific ensemble may vary depending on the purpose and scenario, there are some common pieces of equipment that form the backbone of tactical gear ensembles.
Ballistic Helmet
A ballistic helmet is a crucial piece of protective equipment. Designed to shield the head from projectile and fragmentation threats, these helmets are constructed using materials like Kevlar or high-density polyethylene. Their primary purpose is to provide reliable protection against bullets and shrapnel fragments.
Plate Carrier
A plate carrier is a lightweight vest that allows the insertion of ballistic plates. Today's models strike a delicate balance between protection, weight distribution, and customisation options. The exterior build of a plate carrier allows for equipment to be easily attached, and the ballistic plate protects against ballistic threats such as bullets and shrapnel.
Tactical Gloves
Designed to be durable, tactical gloves are an essential tool for military personnel, police officers, outdoor enthusiasts, and anyone seeking enhanced hand protection. From heavy-duty knuckle padding for impact resistance to reinforced palm areas for added grip, these gloves provide optimal dexterity. Additionally, many models feature touchscreen compatibility, allowing users to operate their devices without removing the gloves.
Backpack
Tactical backpacks can be used to traverse through rugged terrain or just simply during every day commuting. These packs are built to withstand the harshest conditions. With multiple compartments, pockets, and MOLLE webbing systems, these bags provide plenty of storage. From secure compartments for electronics to dedicated spaces for hydration bladders and medical supplies, everything has its place in a tactically designed bag
Belts and Holsters
Tactical belts and holsters are essential accessories for anyone engaged in tactical or outdoor activities. These items serve as reliable tools that provide quick access to important equipment such as firearms, knives, flashlights, and other essentials. One key aspect of tactical belts is their ability to distribute the weight of your gear evenly across your waist. This can help reduce fatigue and allow for comfortable movement during long operations.
Holsters are designed to securely hold your firearm while keeping it easily accessible when needed. They come in various styles, including paddle holsters, belt holsters, thigh holsters, and shoulder holsters. Along with ensuring weapon retention and accessibility, a good holster should also be comfortable enough for all-day wear without impeding mobility.
Accessories
Examples of tactical accessories could be anything from watches to night vision goggles.
Tactical timepieces often come equipped with features such as GPS tracking, altimeters, barometers, and compasses to aid in navigation during missions. Additionally, many models incorporate scratch-resistant glass and water-resistant capabilities.
Night vision has revolutionised the way missions are conducted in low-light or complete darkness scenarios. Night vision devices amplify even the slightest amount of available light to provide clear imagery in real-time.
They have become indispensable for covert operations and offer significant advantages in surveillance, search-and-rescue missions, and combat situations where visibility is limited.
Protective Armour at Sarkar Tactical
There's no room for compromise when it comes to tactical gear. Prepare yourself with the industry's most exceptional protective gear. At Sarkar Tactical, we design specialised, professional body armour and tactical gear that fulfils the requirements of military personnel and special forces.
Join the ranks who trust Sarkar Tactical to protect them in the most challenging environments. Contact us for more information, or view the rest of our blog section to learn more from our expert team.